Gudetama is an egg yolk with a small groove. Gudetama looks like a character that has been abandoned – it has limbs but no fingers or toes; it has a mouth but no teeth. However, people have more than one egg yolk. You can see it on backpacks, mugs, airplanes, credit cards, and even its own theme cafe. But the cute appearance of Gudetama is not the main factor in its popularity. Its main attraction is its soft personality.
As a member of the Sanrio family, Gudetama can be said to be a "problem child". Unlike many cheerful classic stars such as Hello Kitty, My Melody, Pompompurin, etc., the lazy character like Gudetama is still the first one.
Gudetama, who doesn't want to go to work, tells the mood of many office workers. The lazy style of speech and the attitude of lifelessness have become popular among many people in Japan and abroad.
However, most people probably don't know that Gudetama is a Japanese designer's first-time singer's work, and he is able to make a comeback. Even the designer himself is a "miracle."
Gudetama is a cartoon image launched by Sanrio in 2013 and was first launched as a runner-up in Sanrio's internal character design competition. There were more than a hundred characters participating in the competition that year. Gudetama was designed by Sanrio's young newcomer Amy (エイミー), inspired by a bowl of Tamago kake gohan. When designing Gudetama, Amy just entered the company for a year and a half. Designer Amy graduated from Joshibi University of Art and Design with Yuko Yamaguchi, author of Hello Kitty's Hello Kitty, and Okumura Miyuki, author of Cinnamoroll. Gudetama is characterized by laziness, and the more exposed image of Gudetama attracts a large number of working families.
ぐでたま/ Gudetama 's birth is unexpectedly smooth, and it is undoubtedly the victory group of life!At the beginning of his life, Gudetama successfully passed the company's internal audit and stood out from more than 100 new characters designed by 60 designers. He was selected as one of the 20 candidates for the 2013 Food Characters General Election.
And in the popular vote, I got nearly 30,000 votes and the second place. People can't help but wonder, who is the birther of Gudetama?
Kirimichan, a salmon steak, won the first prize. They really started to release products based on this salmon steak and its friends.
Gudetama, a lazy egg, got the second place, but they also released a product based on egg yolk, which is really popular.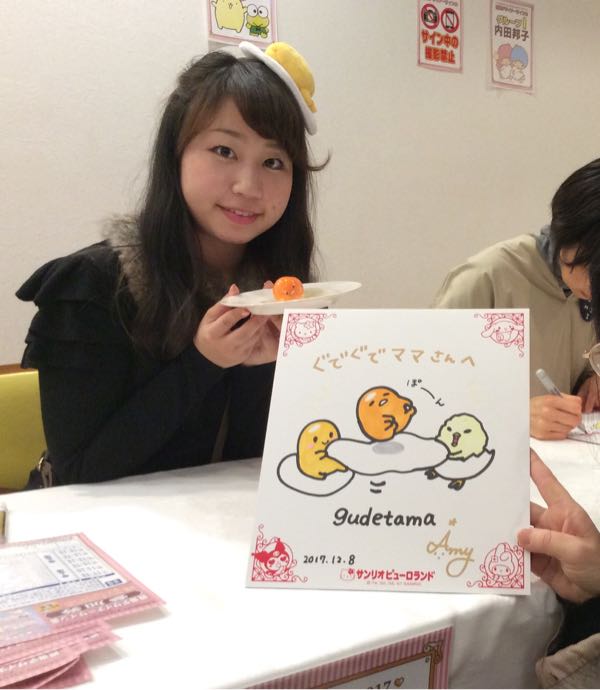 Amy (エイミー), a Japanese female designer who created Gudetama, was only a newcomer who had just entered the company for a year and a half. In an interview, she said that she had designed several roles to participate in the review.
Unexpectedly, Gudetama, who did not conform to Sanrio's image at the end, became a candidate. Compared with other characters, Gudetama is "not at all likable".
Even Amy himself feels that "Gudetama is really OK?", "Is it going to be smashed by the top of the company?" Never thought that Gudetama will eventually be popular in the middle of the world and become a well-known big star at home and abroad.
Inspired by Gudetama, it comes from a bowl of Tamago kake gohan.
When Amy was eating Tamago kake gohan at home, she suddenly felt that "the raw egg yolk was so cute", and began to think about it from here: the egg is obviously rich in nutrition and excellent, but it always rolls freely and without enthusiasm.
Every day, I am worried that I don't know when I will be eaten. While enjoying the negative mood, I enjoy the moment, and there is a kind of "positive negative energy". After repeated revisions, the Gudetama that I have seen is born.
Amy believes that modern people have more or less the same parts as Gudetama. Although they have the ability but they are not motivated, they are easily unable to feel life. In addition, Gudetama speaks mostly in short sentences.
Just as people use short texts to express their feelings on social networks such as twitter and facebook, it is also why many people find resonance from Gudetama.
As the creator of Gudetama, Amy graduated from Joshibi University of Art and Design with Yuko Yamaguchi, author of Hello Kitty, and Okumura Miyuki, author of Cinnamoroll.

Amy loved graffiti since she was a child. She was interested in character design from high school. When she was working in Sanrio Park in Japan, she worked for 4 years. Therefore, she was encouraged by the people around her. "Go and see Sanrio's designers!" Due to fierce competition,

Amy, who didn't expect anything, didn't expect to be hired by the old company of Sanrio when he graduated from college, and stepped into the narrow door of professional character designer.
When it comes to the process of Gudetama's popularity, Amy's direct call is simply a "miracle." Amy admits that even if Sanrio has always produced many well-known stars, it does not mean that he can design a popular character. Gudetama can become a new star in recent years. "It must be a sigh of all the good fortune in life." Is it?"
Although Gudetama is not able to work hard, but as a character designer, Amy believes that "100% effort" is the lowest standard all the time. In the process of designing a character, I often review my work output repeatedly, and often ask myself, "Can I paint better?"
Amy also said, "Even if the design process is hard and inspirational, it is the most enjoyable thing to do what you like."
The depressing appeal of Gudetama is very different from that of the United States. The cuteness of the United States is still easy to understand. The concept of cuteness represents goodness and optimism, and pessimism is often a characteristic of evil.
There is a clear demarcation between good and bad. The bad guys are often portrayed as not glamorous, scary, and aging covered in shadows and dark colors. They should have been regarded as evil, and that means they can never be cute.
However, in Japan, this is a vague area. The term "Kawaii" is widely used to describe characteristics like children, which means you can be cute and lazy at the same time.
Kawaii is a very interesting concept. It is a very fragile cute. It's so cute that you want to take care of you.The word appeared in the 1970s and became a very important part of Japanese culture. Cute is expressed through fashion, handwriting, and even behavior. Many Japanese artists and scholars believe that the emergence of this cute pop culture is for a reason. In Japan, the calm appearance of the lazy character has healed many people.
You can also see the changes in Sanrio's role over the years. They began to give characters a personality to make them more intimate. When Hello Kitty was born in 1974, she was a more traditional cute than Gudetama, but she looked like she had no feelings.She has no expression to express her emotions, no mouth to smile or express dissatisfaction, which makes Hello Kitty more like a blank canvas, people want her to become anything.However, many people feel that Guedtama has a kind of connection with it because of its melancholy personality. This interpretation of cuteness transcends appearance. That provokes a reaction. These characters can make you laugh or feel relaxed, and you can resonate by observing his personality.