PomPomPurin is a cartoon character created by Sanrio in Japan in 1996. The designer is Kenji Akiko (also the designer of Kero Kero Keroppi). The main features are a chubby yellow body and a brown beret. The related products usually appear as pudding dogs with good friends or desserts and fruits. In the Sanrio doll musicals, they also set their roles to participate in the performance. He won the first place in 1997 in the "Sanrio Debut Character Award" held by the readers of Japan's "いちご新闻"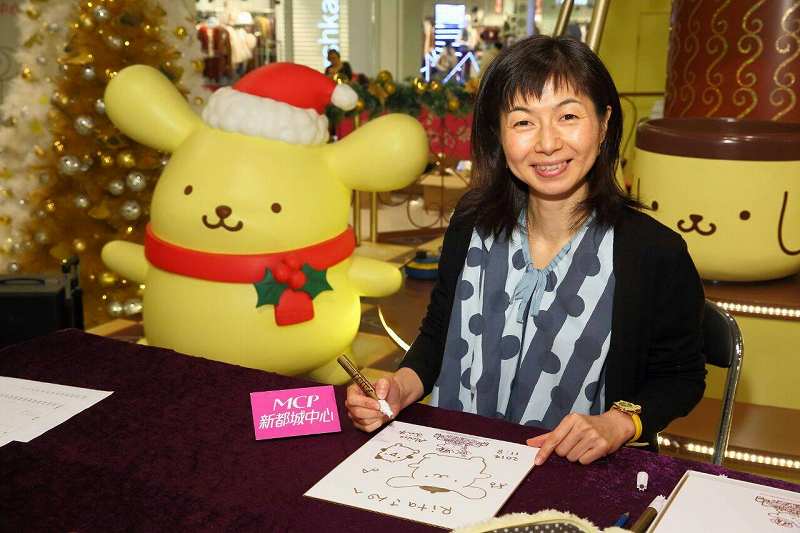 Profile of Pompompurin
English Name:Pom Pom Purin
Nickname: Pudding Dog
Breeds: Golden Retriever
Gender: Male
Birthday: April 16, 1996 (it is said that day is a good day)
Constellation: Aries
Features: Looks round and fat
Interest: collect shoes (one of a pair of shoes), sleep, do pudding gymnastics
Residence: the entrance of the little master sister's house
Personality: leisurely, slow-headed, greedy for food
Favorite thing to do: go for a walk in the park
The most annoying thing: a person is left alone at home
The most loved words: go out!
The most hateful words: Take a good look at home!
Favorite food: milk, mother made pudding
Future dreams: grow up some more
The story about the brown hat:
One day, my little master put a small cap on my head, and everyone said, "Wow! It seems like a delicious pudding!" From then on, everyone called me "Pudding Doy", actually I also like this hat very much!
6 little secrets of the Pudding dog
What kind of dog is Pudding Dog actually?
It is a Golden Retriever! Because in the design process, Golden Retriever and Labrador are the most popular in the dog category. The character is designed to be a furry, rounder figure, and the image will be more lovely, so the designer finally chose the Golden Retriever as the design blueprint for Pudding Dog.

Why is there a brown hat on the Pudding Dog?
Is it related to his name? Because pudding is "yellow, round, furry", plus the brown hat will be more like the top with syrup. The hat was put on the Pudding Dog by the owner's sister. Everyone thought that he was very similar to the real Budian, so from that time on, everyone called him Purin, which means Pudding in Japanese.

Recently, it seems that a beautiful woman named Macaroon appears frequently around Pudding Dog. Is she rumored to be a girlfriend of Pudding Dog?
No! But Pudding Dog seems to be very interesting to her!

Why are Pudding Dog friends named after dessert?Is it because he loves dessert too much?
Not only is it a dessert, he likes to eat anything, so Sanrio Japan's design team designed the name of Pudding Dog with a variety of cute and delicious food.

Why does Pudding Dog love to sleep, but at the same time he also loves to do Pudding gymnastics?
This is because Pudding Dog wants to diet, so he created the Pudding Dog gymnastics dance, so that everyone can dance happily and lose weight.

Pudding Dog has a variety of shapes, and the shape of wearing pumpkin pants is familiar. What is the relationship between Pudding Dog and pumpkin pants?
Because most of the Pudding Dog 2D is not designed to be dressed, but the Pudding Dog in the theme park is different, Sanrio Japan's design team wants to dress up Pudding Dog. They think that ordinary T-shirts or tops are not attractive enough. At that time, cute pumpkin-shaped trousers are very popular in Japanese stores. It is best to find Pudding Dog with pumpkin pants. The shape is also very cute, so the pumpkin pants. It became one of the clothing of Pudding Dog.

マフィン(Muffin):Hamster, the original name is Muffin, a British sponge cake.
スコーン(Scone):Mouse, the original name is scone, an English scone.
ホイップ(Whip):Penguin, the original name is the egg beater, the mixing device commonly used to make cakes.
ベーグル(Bagel):Squirrel, the original meaning of the name is bagel, an American hard bagel.
ミント(Mint):Frog, the original name is mint, the spice ingredients commonly used in desserts.
パウダー(Powder):White rabbit, the original meaning of the name is "powder", derived from baking powder.
タルト(Tart):The orange lop eared rabbit, the original meaning of the name is "tower", which is the commonly used filling base for Western-style desserts, such as egg towers and fruit towers.
ココナッツ(Coconut):Monkey, whose original meaning is coconut, is a commonly used raw material for Western-style desserts, such as coconut powder and coconut milk.
シロップ(Siroop):Seagull, the original name is sherbet, a fruit syrup, commonly used for shaved ice or beverages.
カスタード(Custard):Yellow bird, the original meaning of the name is milk yellow, a kind of milk egg mixed with heat-solidified filling.
バニラ(Vanilla):Polar bear, the original name is vanilla, a spice commonly used in Western desserts.
マカロン(Macaron):Macaro, the original meaning of the name is macaron, a valuable high-end dessert, is a golden retriever dressed in a dress.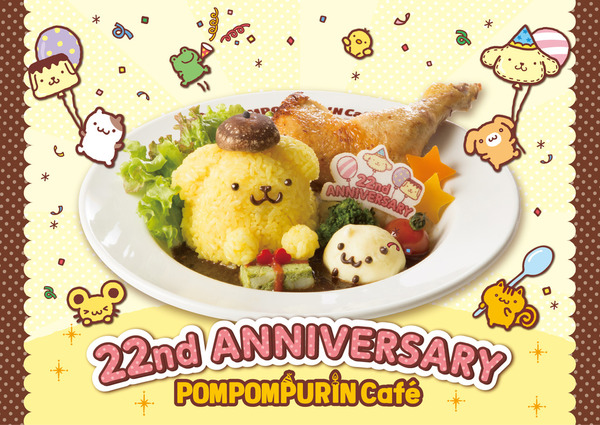 Chubby fat Podding Dog has always been popular, although last year's Sanrio general election lost the position of the champion, but the popularity is still not reduced. This year's April 16th is the 22nd birthday of Podding Dog, and the four Pompompurin Cafe will naturally celebrate the event! Therefore, from April 1st to April 30th, Pompompurin Cafe in Harajuku, Umeda, Yokohama and Nagoya will offer a limited time to celebrate the birthday of Pompompurin!
There are two limited meals during the launch, first of all, "Happy Birthday! Roasted Chicken" (with a tax of 1,609 yen) as the main dish, with aroma-filled chicken legs and Pompompurin-shaped rice. lovely! The other one is "Pompompurin Black Tea Buddy" (with a tax of 648 yen), which is decorated with pale pink savory cream. It looks like a Pompompurin with a birthday hat! In addition, customers who come during this time can get a special design of postcards and a badge, a limited number, while stocks last, you will not miss the Buddy Dogs in April!